F1 2021 Russian Grand Prix Preview: Can the rain help Max pull off a miracle?
I used to think the Gods of F1 were blind. Lightning bolts desperately needed to be cast down on someone not named Mercedes and fan desperation never seemed to be enough to persuade them to pull the trigger. Well, here we are.
After yet another stunning race result nobody saw coming in Italy, it's safe to say our calls have been answered. The booms from the thundering Gods are so loud nobody can know what's going to happen next.
"Mercedes win in Russia", "Max terrorises Sochi", "McLaren finish 1-2 again", "Kimi Raikkonen wins for Alfa Romeo". At this point, none of those headlines would be a surprise and each is worth cheering for its own reasons.
Track guide
Russia is justifiably decried as one of the most boring tracks on the F1 calendar. It's dead flat, unimaginative, and looks as though it was fenced like a prison yard. But it is wickedly fast and a place where mistakes are punished. While it has rarely held exciting races since its 2014 inception, this year's F1 landscape is wholly different.
Sochi's main point of interest is the huge left-hand Turn 3 that finishes off the fast Sector 1. From there, Sector 2 slows down and challenges the drivers with sharp corners leading to the back straight and a good passing opportunity. Sector 3 is all about getting it right before blasting down the main straight. Watch for an opening lap lead change or general mayhem at Turn 2.
Last time out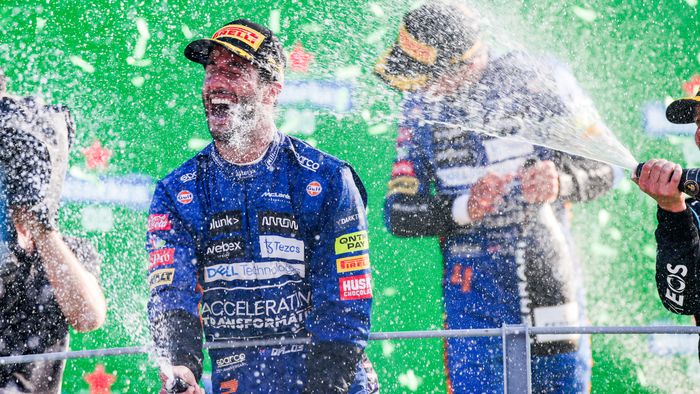 Monza is F1 royalty for good reason. Every year, the Temple of Speed serves up a classic and this year was no different. A perfectly executed emphasis on aerodynamic balance saw Daniel Ricciardo earn McLaren's first race win since 2012. Lando Norris followed the Australian home in second place to underscore the team's triumph.
Lewis and Max made contact twice, finally taking each other out in a scary fashion the second time, and adding to the intrigue of their title fight. Valtteri Bottas, seeming like a man possessed since his contract non-renewal at Mercedes, fought all the way back to the podium from last. To say Monza was a race filled with story threads would be an understatement.
Will Verstappen and Hamilton collide again?
There is more than one pivotal point to watch in Sochi. The most obvious is whether Max and Lewis can keep the racing contact-free. The two title contenders have seemed magnetic at times and it has cost them both. They are each fortunate the title fight remains intense.
Further incidents will start having more pronounced effects on the points table and with both teams seemingly capable of winning it all, an incident that heavily favours one team may wind up deciding it all.
As discussed earlier, McLaren won in Monza but, interestingly, the team did it on merit. With pole-sitter Bottas taking penalties and starting last, Ricciardo mugged his former teammate Verstappen into Turn 1 and dominated from there. He never appeared under serious threat even with a safety car working against him.
It would be premature to assume McLaren are suddenly in the title fight, but it is not so crazy to think they'll be hanging around the top for the remainder of 2021.
Sergio Perez is another driver to keep an eye on this weekend. The Mexican has seen an up-and-down 2021 with a recent run of mixed results. He has always driven the Sochi Autodrome well and will be looking for a return to the podium.
Russia may sometimes be looked at like a race that can be missed. But in 2021, with the wild swings, surprise results, tight races and championship leads it would a mistake not to be excited for this weekend. The Russian Grand Prix is this Sunday, September 26th.
Session Times
Practice 1, Sept 24th: 09:30 – 10:30 (4:30 – 5:30 EST)
Practice 2, Sept 24th: 13:00 – 14:00 (8:00 – 9:00 EST)
Practice 3, Sept 25th: 10:00 – 11:00 (5:00 – 6:00 EST)
Qualifying, Sept 25th: 13:00 – 14:00 (8:00 – 9:00 EST)
Race, Sept 26th: 13:00 (8:00 EST)
All times are British Summer Time (BST), unless stated
Grid Talk Podcast
Want more content to preview your Russian GP weekend? The Grid Talk crew have you covered with their Russian GP preview! Ruby Price hosted George Howson, Tom Downey, and Louis Edwards in their latest podcast. Both audio and video versions of the show are available below: