F1 2021 Portuguese Grand Prix: Hamilton Takes Control in Portimao
It was Valtteri Bottas who bounced back after his disaster in Imola to take pole position in Portugal, with Sir Lewis Hamilton flanking the Finn in a Mercedes 1-2, ahead of the two Red Bulls of Max Verstappen and Sergio Perez.

With Red Bull and Mercedes sharing the race winning spoils in the first two rounds, the scene was set for another duel between F1's top two teams.
A Wild Start
After last year's chaotic opening few laps, where Carlos Sainz grabbed the lead and Verstappen and Perez came to blows, many predicted more mayhem today as drivers got to terms with getting their tyres in the right temperature window.

Bottas maintained his lead off the start, whilst it was Sainz who made progress again, passing Perez for fourth. Esteban Ocon and Lando Norris battled hard for sixth, Ocon initially getting up the inside into Turn 5, before Norris brilliantly went round the outside to regain the position.
The Safety Car was deployed as Lap 2 begun as Kimi Raikkonen ran into the back of Alfa Romeo teammate Antonio Giovinazzi, causing a spectacular failure of his front wing. Raikkonen would fly straight into the Turn 1 gravel trap and out of the race.
Lewis and Max Duel Again
On the Lap 7 restart, Hamilton was the one who got caught napping, giving Verstappen the opportunity to charge alongside and make a superb move around the outside of Turn 1 for second. Behind them, Norris continued his fine form, making great moves on ex-teammate Sainz and Perez to move up to fourth.
Whilst Verstappen initially put further pressure on Bottas up front, a mistake in Turn 14 on Lap 10 gave Hamilton the slipstream onto the main straight to get back in front of the Red Bull.
Lap 15 saw Perez repass Norris for fourth, whilst Hamilton begun to stalk his teammate grip on the race lead. Norris' McLaren teammate Daniel Ricciardo meanwhile was recovering from a poor qualifying nicely, moving into the top 10 by Lap 18.
Meanwhile, Hamilton's pressure on Bottas for the lead finally told by Lap 20, when the Brit steamed around the outside into Turn 1 in a similar fashion to Verstappen earlier in the race.
Strategy Plays Its Part
Sainz's soft tyres bit the dust on Lap 22, beginning the pitstop phase of the race. This was immediately covered by Norris, whilst Charles Leclerc stayed out as Ferrari played a split strategy gamble.
Leclerc then came in on Lap 26, unable to make the mediums last as long as hoped, going onto the previously unfancied hard tyres to attempt to get to the end.
Out front, Hamilton began to take change, opening up a 3-second lead whilst Bottas continued to frustrate Verstappen in the battle for second. Perez ran a lonely fourth, with Ricciardo and Alonso using their mediums to good effect in P5 and P6.
Red Bull blinked on Lap 36, bringing Verstappen in for hard tyres in a bid to undercut Bottas. Bottas came in the following lap and whilst he initially came back out ahead, Verstappen used his warmed-up tyres to good effect, moving past Bottas on the back straight to regain a net second in the race.
Hamilton maintained his position over Verstappen after his stop, however Red Bull elected to keep Perez on track in a bid to cause further disruption to Mercedes's control of the race.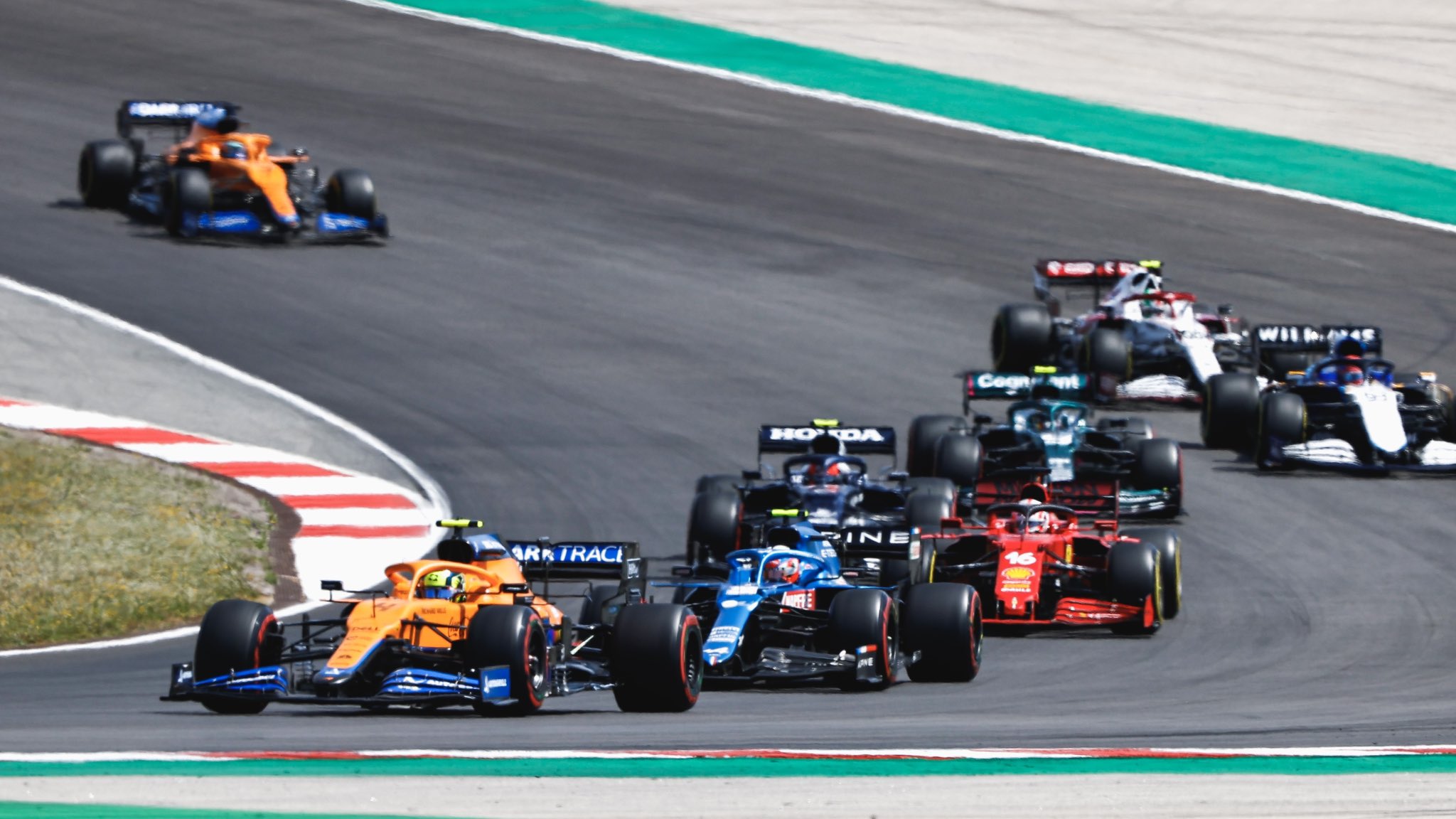 Ricciardo and Alonso relinquished their control of the midfield when they made their one and only stops, leaving Norris in fifth, ahead of Leclerc, Ocon and the fading Sainz.
Perez's mammoth stint on the medium tyres nearly came to an abrupt end when backmarker Nikita Mazepin cut across the Red Bull as he was being lapped, leading to the "idiot" team radio bingo being used again on the Russian.
By Lap 51, those medium tyres were fading badly and Hamilton retook the lead in effortless fashion. Behind them, Fernando Alonso's strong race continued as a move around the outside of Ricciardo into Turn 1 gave him ninth. The Mexican would pit at the end of that lap.
Fastest Lap Point Takes Priority
Hamilton's lead over Verstappen during the final stint hovered around the 5-second mark, with Bottas maintaining a gap just outside of DRS range in third.
However, this third place became threatened on Lap 55 when the Finn reported a loss of power. Fortunately for Mercedes, the exhaust sensor error was fixed, albeit at the cost of three seconds to the Red Bull in front.
Alonso's fine race continued on Lap 58, passing Sainz's Ferrari for eighth, whilst the Spaniard's misery was compounded when Ricciardo took ninth on Lap 64 and Gasly took the final point a lap later.
The battle for the fastest lap point took precedent in the closing laps. Perez held it following his late stop for softs, however both Bottas and Verstappen pitted again in a bid to reclaim it.
Whilst Hamilton crossed the line for his second win of the season and 97th of his career, Verstappen put in a rapid final lap for that potentially vital extra point in second. Unfortunately for the Dutchman, track limits at Turn 14 meant his time was deleted, handing the fastest lap to Bottas behind instead.
Perez's quiet afternoon ended in fourth, whilst Norris and Leclerc continued their strong starts to the season in fifth and sixth, respectively. Esteban Ocon led home his Alpine teammate Alonso for seventh, whilst Ricciardo and Gasly rounded out the points.

With this result, Hamilton increased his championship lead to 8 points over Verstappen, with Norris holding his excellent third place in the standings ahead of Bottas and Leclerc.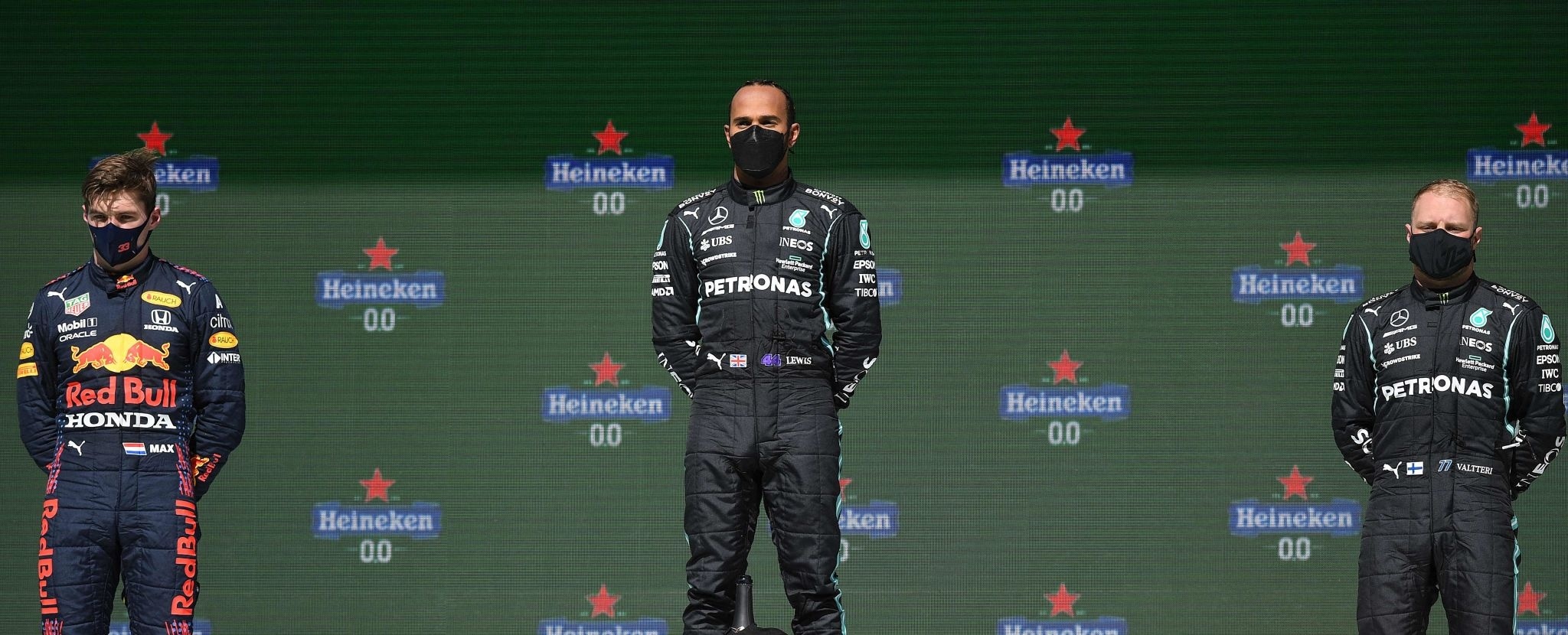 The paddock now heads to Barcelona for Round 4 of this year's championship with this first double-header of the season.
Full Classification
Here is the full provisional classification for the 2021 Portuguese Grand Prix:
| | | | | |
| --- | --- | --- | --- | --- |
| Pos. | No. | Driver | Constructor | Gap |
| 1 | 44 | Lewis Hamilton | Mercedes | Leader |
| 2 | 33 | Max Verstappen | Red Bull Racing | +29.1 |
| 3 | 77 | Valtteri Bottas (FL) | Mercedes | +33.5 |
| 4 | 11 | Sergio Perez | Red Bull Racing | +39.7 |
| 5 | 4 | Lando Norris | McLaren | +51.3 |
| 6 | 16 | Charles Leclerc | Ferrari | +55.7 |
| 7 | 31 | Esteban Ocon | Alpine | +1:03.7 |
| 8 | 14 | Fernando Alonso | Alpine | +1:04.8 |
| 9 | 3 | Daniel Ricciardo | McLaren | +1:15.3 |
| 10 | 10 | Pierre Gasly | AlphaTauri | +1:16.4 |
| 11 | 55 | Carlos Sainz | Ferrari | +1:18.9 |
| 12 | 99 | Antonio Giovinazzi | Alfa Romeo | +1 Lap |
| 13 | 5 | Sebastian Vettel | Aston Martin | +1 Lap |
| 14 | 18 | Lance Stroll | Aston Martin | +1 Lap |
| 15 | 22 | Yuki Tsunoda | AlphaTauri | +1 Lap |
| 16 | 63 | George Russell | Williams | +1 Lap |
| 17 | 47 | Mick Schumacher | Haas | +1 Lap |
| 18 | 6 | Nicholas Latifi | Williams | +2 Laps |
| 19 | 9 | Nikita Mazepin | Haas | +2 Laps |
| DNF | 7 | Kimi Raikkonen | Alfa Romeo | Collision |